ENG CH. Kennelgarth Edrick

ENG CH. Kennelgarth Knight Errant

Kennelgarth Queen of Diamonds

ENG CH. Kennelgarth Caprice

ENG CH. Kennelgarth Edrick

ENG CH. Kennelgarth Knight Errant

Kennelgarth Queen of Diamonds

ENG CH. Kennelgarth Deborah

Gaywyn Drambie Regal Lass

ENG CH. Gillson Grandiloquence

ENG CH. Kennelgarth Edrick
Hamish was my first scottie.  Through my mentor, Miss Betty Penn-Bull (Kennelgarth), I was able to acquire a young male puppy out of Betty's CH. Kennelgarth Romeo that was whelped in late 1985 while I was living in England.  That puppy was Hamish. Betty felt Hamish had show potential, so I was guided by her,  Elsa Meyer (Reanda) and Muriel Owen (Gaywyn) on the do's and don't's of showing Scotties.  I was taught to hand-strip the coat using my fingers, and not to take short cuts.  Elsa gave me my first slicker brush, which was an old wooden piece of equipment even then.  I still have it.  Betty taught me how to cook for the pup, and feed in the nuitriton while he's young, insisting that I add beef tripe (nasty stuff) to the menu.  She said scotties are 50% born and 50% made and if I don't feed the the goodness into him by the time he's 6 months old, he won't amount to much.  But such was the way it was with Betty.  In England, we all showed up at the dog shows with not much more than a dog, a comb, and a lead.  No hair dryers, no fru-fru coat dressings, mousse and hairspray, rarely any crates, and probably not even a table.  I learned alot from those pillars of our breed, and still follow much of their early advice today, although I'd never leave home without my hair dryer.  Hamish and I enjoyed the shows in England where I saw some of the great Scotties of yesteryear, and got to visit Kennelgarth kennels and Silverlands where the Gaywyns lived.  Later, traveling to Spain, I continued to show in conformation before returning to the USA in 1987.  As you can imagine, my first American dog show was a shock.  All the hairdryers, tack boxes full of grooming supplies, different kinds of stripping knives, combs, brushes, tables, crates...wow.  And here I was with Hamish sporting eyebrows out to there and long flowing leg furnishings and beard.  I knew I was out of my element, so I called Betty and wondered what I should do.  I had a lot to learn with this American-style of presentation.  At Betty's advice, I contacted Bergit Coady (who was showing CH. Kennelgarth Romeo at the time that had been recently imported to the USA).  Bergit agreed to take Hamish, stripped out his long coat, and regroomed him American-style. Once she brought him out and started showing him, Hamish finished his championship undefeated in just two weekends, going Best of Breed over his sire, Romeo, for a 4-point major to finish.  Hamish went on to sire some very nice puppies, including my STCA National Specialty Winner, CH. Tardun Teatime at Haslemere as well as CH. Hycourt's Taboo, who proved to become a very successful producer in Europe, and several other champion offspring.  Hamish was a true Scottie character like none other, and is deeply missed.

CH. Dana's Sunday Edition

AM/CAN CH. Firebrand's Bookmaker

CH. Firebrand's Dark Velour

AM/CAN CH. Charves Dashing Dawtie

AM/CAN CH. Charves Maggie Lauder

CH. Hughcrest Hot Fudge Sunday

CH. Anstamm Happy Venture, ROMS

CH. Anstamm Dark Venture, ROM

CH. Fitzwilliam's Happy Girl

Fitzwilliam's Fancy, ROMS

AM/CAN CH. Anstamm Dazzler Dynamic

CH. Sandgreg's Square Deal

AM/CAN CH. Firebrand's Bookmaker

AM/CAN CH. Charves Dashing Dawtie

CH. Glad-Mac's Gypsy of Sandgreg

CH. Wee Doc of Rancho Milandy

CH. Glad-Mac's Cracklin' Rosie

CH. Sandgreg's Mr. Hot Shot

CH. Sandgreg's Ball O'Fire

Sandgreg's Enchantress Star

Glad-Mac's Sweet Caroline

CH. Wee Doc of Rancho Milandy
After I returned to the USA from living abroad, I saw wheaten scotties in the ring for the first time.  I was very drawn to the beautiful, crisp wheaten color, and decided I had to have one.  I acquired Rosie, a lovely red-wheaten girl, from Allene Haldy of Hycourt scotties.  Rosie was bred by Allene out of her wonderful producing wheaten bitch, CH. Hycourt's Blush With Pride ("Peaches") and sired by Nancy Fingerhut's ("Dana") CH. Dana's Sunday Edition, an Editorial son.  With help from Allene and Ron Murk (Blackwatch), I learned to groom this dark red-wheaten girl.  You can sometimes get away with improper grooming on a black or brindle, but not on a dark wheaten coat.  Since the color is only on the tips of the hair shaft, any clipping or cutting of the jacket is going to show up.  Therefore, you must strip the coat out with your fingers so the color comes in nice and even.  I think everyone should groom a wheaten just once as it will make you a more honest groomer.  Rosie proved to be irresistable in the ring, and was quite a show girl.  She finished her championship in short order, and went straight into a brief, but successful, specials career, winning 3 Group Ones, and several Group placements.  Rosie would hold a pose in the ring like the Rock of Gibralter, tail up, and eyes locked on the treat in my hand.  Once, when we were in the group ring, the judge noticed this, and walked over to me and stood staring at Rosie.  Rosie didn't move.  The judge walked behind me so I couldn't see what he was doing.  Rosie didn't move.  Finally, he walked back in front of me, pointed, and gave Rosie the group!  Thank you Judge Robert Graham, may he rest in peace.

ENG CH. Kennelgarth Edrick

ENG CH. Kennelgarth Caprice

ENG CH. Kennelgarth Edrick

Gaywyn Drambie Regal Lass

Scotsbairn's Wee Baroness

Ruffton's Compliment of Sadie

CH. Dunbar's Democrat of Sandoone

CH. Dunbar's Southern Dancer

ENG/AM CH. Gosmore Gillson Highland King

Scotsbairn's Pride of Dundee
Magie was bred by Connie Smith (Lanshire), using my Hamish as stud.  She was a promising puppy from the start, and Connie generously allowed me to become her co-owner.  Magie grew up to be a lovely black girl with a beautiful, lean head, who would always hold her own in the show ring.  She was owner-handled throughout her show career, and finished in Dallas with a 4-point major.  She was only bred once, and produced two champions - one conformation and one agility.


ENG CH. Kennelgarth Edrick

ENG CH. Kennelgarth Caprice

ENG CH. Kennelgarth Edrick

Gaywyn Drambie Regal Lass

ENG CH. Glenecker Danny Boy
This wonderful little bitch was very dear to my heart.  Bred by Theresa Duncan (Tardun), Katie was a puppy I took in lieu of a stud fee, when Theresa bred her CH. Basie of Lomondview to Hamish.  Katie came home with me when she was about 13 weeks old.  We took a few dry runs in the ring early in her puppy show career, and she quickly snapped up the points.  When she was just 10 months old, I took her to the STCA National Specialty Show in Montgomery County to show in the puppy classes.  I had never been to Montgomery County so this was my first trip.  I had worked hard on Katie's coat condition and training so we might have a chance at a placement.  Well, Katie had other ideas.  At the Devon show, she won Winner's Bitch and Best of Winner's from the puppy bitch class for a 5-point major.  To say I was happy would be an understatement.  The next day was the big show, the prestigious STCA National Specialty show.  It was the largest entry we'd ever had - 202 scotties.  The judge was a long time well-known dog person, Anne Rodgers Clark.  I was a little intimidated by her - she was very tall and imposing.  I remember thinking, no way can Katie repeat yesterday's performance at this show.  But I was thrilled when Katie won her puppy class.  When we went in for Winner's Bitch, Katie caught sight of the 6-9 puppy right behind her and began twirling around to look at her, barking, and refused to turn back around and walk around the ring as requested.  Mrs. Clark was very patient, and had us go around again,  This time Katie walked forward smartly.  I was astonished when Mrs. Clark pointed at Katie for Winner's Bitch!  She went on that day to win Best of Winners and it was a day I will cherish for the rest of my life.  Katie went on with a successful specials career the following year with me handling her in and around Texas.  She garnered several Group Ones and placements, and won Best of Breed at the Greater Dallas Scottish Terrier Club specialty show two years in a row, and finished out the year as a Top Ten Scottie in the USA.  Katie had the uncanny ability of looking into my eyes in the show ring, and being able to read exactly what I wanted her to do.  We were always able to somehow communicate with each other in the ring.  I only bred Katie two times, and she produced three champions.  She was a true showgirl and a joy to live with.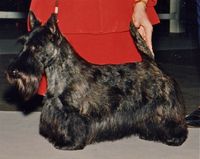 AM/CAN/INT CH. Tardun Talisman

ENG/AM/CAN CH. Scarista's Rocky

INT/GER CH. Scarista Lord Snooty

ENG CH. Kennelgarth Caprice
Hershey was my own first breeder-owner-handled champion.  I started showing him as a puppy, and he finished fast!  He was only 9 months old when he went Winner's Dog from the puppy class for a 5-point major at the Scottish Terrier Club of Houston Specialty show, following that specialty win up with a 4-point major the following day in Houston, Texas, to finish his championship.  Once he finished, Hershey went to live with Tom Natalini (Stonehedge) where he was shown as a special, and sired 11 champions, which are behind many successful bloodlines today.