H

aslemere Scottish Terriers
is a small, select home-based kennel, located just north of Dallas, Texas. Hello, my name is Jeanice Barton.  I began showing scotties in the conformation show ring while living in a small town called Haslemere in Surrey, England in 1986.  I got this crazy idea that I had to have a Scottish Terrier.  I had the fortuitous luck to be referred to an iconic Scottish Terrier beeder, who would become my mentor - the incredibly knowledgeable Miss Betty Penn-Bull of Kennelgarth Scottish Terriers.  Betty took me under her wing and, through her, I was able to purchase my first Scottie, Kencroft Pashia, a male pup sired by Betty's English CH. Kennelgarth Romeo.  But first... I had to agree to show him.  I agreed provided she would teach me how to do that.  And teach me she did.  Under the expert guidance and tutelage of Betty, with additional input from Elsa Meyer (Reanda) and Muriel Owen (Gaywyn), I learned to properly feed, train, groom, and show young Hamish, learning all I could about Scotties and the conformation show ring. I met many wonderful fanciers of the breed in Great Britain, many of whom are still my friends today. After showing Scotties in England, I traveled to Spain for a year, and showed Hamish there as well, finally returning to my home near Dallas, Texas USA, where Hamish finished his American championship with Bergit Coady-Kabel, while I began learning lessons in American-style grooming.  I've never forgotten my Scottie roots, and the basic proper care and maintenance of the Scottish Terrier, as taught to me in my early apprenticeship.

That's how it all started. Since that time, I have had the joy of owning, showing and breeding additional Scotties to their championships in all colors, not only black, but beautiful wheatens and striking brindles as well, some of which have ranked in the Top Ten Scotties of the USA, have been specialty winners and national specialty winners, specialty and national specialty sweepstakes winners, and multiple group winners. While some of the dogs have been professinally handled on a limited basis, most of my Scottish Terriers have been groomed, conditioned, and owner-handled in the show ring by me. Yes, you CAN do it yourself!

My goal is to produce handsome Scottish Terriers, that are healthy, sound dogs with good temperaments, with each generation being an improvement over the last. That is our responsibility as breeders and caretakers of the breed. My philosophy is that we must mentor newcomers to the breed as caretakers of the future of our wonderful Scotties. My mentors are now gone, but the gifts they shared with me in my early years with Scotties will never be forgotten, and I owe a debt of gratitude to those who guided and helped me years ago to become the dedicated Scottie fancier I am today.  If I can share any knowledge that I have learned over the years with a newcomer to the breed, I am always happy to do so.

I have been a member of the Scottish Terrier Club of America as well as the Greater Dallas Scottish Terrier Club for over 27 years. I currently serve on the Board of the Greater Dallas Scottish Terrier Club.  I am also honored to be recognized as an American Kennel Club Breeder Of Merit. The Breeder Of Merit Program recognizes breeders' and exhibitors' dedication and hard work as they continue to produce dogs that are healthy, capable, and beautiful. So, whether you are looking for a promising show prospect or a family pet, feel free to contact me anytime. I don't breed that often, but sometimes have puppies and youngsters available for show or companion. If I have no Scotties available myself, I may be able to refer you to another responsible Scottie breeder.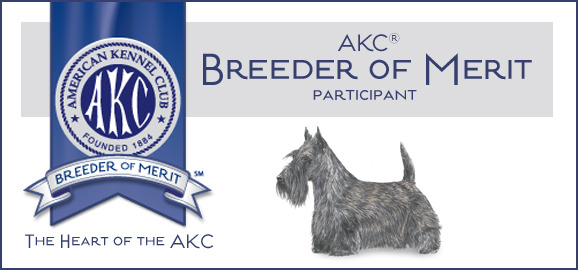 Thanks for visiting Haslemere Scottish Terriers!  
 
You are visitor number: 53290